September 2012 Back to August
Saturday 1st
12 to 21 to 14°C. 8.32kWh 2.4kW max. Sunny with thin high cloud and a light breeze.
Such a nice day that apart from some dead heading decided to enjoy the garden rather than work in it so for the first time this year we got the sun loungers out!!
Apparently this summer has been one of the coolest and wettest on record; only slightly better than 1912.
Sunday 2nd
13 to 23 to 12°C. 4.88kWh 1.2kW max. Fairly cloudy with a few sunny intervals. Warm breeze.
Back to tidying up the garden, starting with the shady Hosta bed.
Monday 3rd
9 to 23 to 14°C. 10.89kWh 1.8kW max. Hazy blue sky most of the day with very little breeze making it feel quite warm.
Early September and finally feels like summer! Certainly a day for working in the shade so continued to tidy up the shady beds near the south hedges.
Tuesday 4th
12 to 20 to 11°C. 7.41kWh 1.9kW max. Sunny intervals with more cloud than yesterday but still very pleasant for early September.
While we have some dry weather decided to pull up the onions. A very good yield except for the heat treated Red Baron, with some very large onions, especially the Hercules. Only a couple of diseased and five bolted bulbs. They should last us all winter and most of the Spring.
Wednesday 5th
8 to 18 to 9°C. 7.76kWh 1.8kW max. Sunny intervals with thin high clouds but a chilly northerly wind.
Thursday 6th
6 to 20 to 13°C. 9.09kWh 1.9kWmax. Clear chilly night but soon warmed up after a hazy start with just broken thinf high cloud most of the day.
I sowed some turnips and swedes in a spare bed inside the fruit cage late in June along with the late brassicas. These, brocolli, kale and spring cabbage started slowly with the bad weather in July but eventually grew enough to transplant a couple of weeks ago but the turnips and swede were still very small at that time. Pat, who is usually responsible for weeding the vegetables had given up on them but I decided to take a look and was suprised to see that they have now finally started to grow in the recent warmer, sunnier weather so it looks like we might have some winter root vegetables after all.
Friday 7th
11 to 23 to 13°C 10.31kWh 1.8kW max. Clear blue sky all day long making it probably the best day of the year. Not the best day for the PV panels though; thin cloud seems to distribute the light more evenly across them than just direct sunlight.
Went to the hospital to have some laser treatment on the prosthetic lense in my right eye to clear some cloudiness which had formed on it. Nothing to worry about, it is quite common for this to happen. Didn't really feel like doing much after we came back, apart from repotting some primroses for the winter from 12 to 15cm pots.
Saturday 8th
12 to 22 to 10°C. 8.93kWh 2.2kW max. Thin high cloud with a milky sun and warm southerly breeze. In some ways an even better day than yesterday.
Decided to harvest the last of the potatoes, seeing as rain is forecast for next week. These are the Rubesse we planted in 20L polybags. An early maincrop which was so good last year we had some left in the spring which had started to sprout so I decided to plant them in bags, like I always do with early potatoes, just to see how they would grow.
The result was a really large crop, around 25kg, much more than the maincrop potatoes which had been planted outside in the usual way and had died back in early July because of the awful dull wet weather. Maybe planting in bags stopped them getting waterlogged. I might try this again next year but of course if we get a normal summer the ground planted ones should perform much better. The question is whether, with all the talk of the Arctic ice melting causing a shift in the Jet Stream, the summer will be any better next year. Maybe growing in bags, especially getting them started earlier in the polytunnel and the warmer springs we also seem to be getting, may always be a better strategy. However, they will need watering more if we don't get another wet summer like those of the last two years.
Sunday 9th
8 to 24 to 16°C. 8.62kWh 1.7kW max. Rather cloudy and windy but still feeling warm for the time of year. However this might be the last late summer weather for the time being.
Monday 10th
12 to 21 to 11°C. 4.71kWh 1.4kW max. Overcast with a few light showers and blustery warm southerly wind.
Back to sawing and splitting up wood for the winter.
Tuesday 11th
10 to 17 to 8°C. 9.91kWh 1.8kW max. Clear blue sky to start but clouded over by lunchtime with a few short light showers and an cold northely wind.
Seems like autumn may be here. We might even get a frost tomorrow night!!
Wednesday 12th
6 to 18 to 4°C. 5.14kWh 1.8kW max. Sunny intervals with a few heavy showers and a cold wind. Heavier rain in the evening.
Not feeling too good with the usual shortness of breath and aching so didn't do much. We suspect the cause was an home insurance renewal notice that came in the post. I usually avoid reading the post but this needed dealing with, including ringing up and quoting details from it. They won't accept Pat doing this when it is addressed to me!!
Thursday 13th
4 to 18 to 14°C. 8.54kWh 2.3kW max. Sunny cold start becoming warmer with thin cloud later.
Still feeling unwell.
Friday 14th
11 to 18 to 11°C. 6.29kWh 1.8kW max. Sunny intervals, breezy with a few light showers.
Feeling better so decided to trim the new hedge. Some of the hedglings have reached nearly 2 metres but at this time it is more important to make sure we get it nice and dense. So trimmed the whole of the top back down to around 140cm and also cut back all the side shoots by at least a third.
Saturday 15th
7 to 20 to 13°C. 9.81kWh 1.9kW max. Thin high broken cloud with much less breeze so feeling quite warm,especially in the sunshine.
Started to clear the weeds away from the new hedge. The annuals in the wild garden have finished flowering so it is time also to dig out the perennial weeds, especially thistles, nettles, docks, cow parsley and rye grass, so the seedlings from these annuals get a good start next year.
Sunday 16th
12 to 19 to 11°C. 3.92kWh 1.2kW max. overcast with only a few glimpses of the sun and short spells of very light drizzle.More prolonged light rain early evening clearing later.
Monday 17th
6 to 18 to 11°C. 6.78kWh 2.0kW max. Sunny intervals with a few light showers and a cold northerly breeze.
Much of the summer flowers in pots in front of the conservatory have finished so cleared away the tigridia, gladioli and some of the begonias and started replacing them with chrysanthemums.
Tuesday 18th
7 to 16 to 7°C 8.39kWh 1.9kW max. Quite sunny at times but with black clouds scuttering across the sky in the strong cold northerly wind causing several short but heavy rain showers. More general rain in the early evening but then cleared.
Looks like autumn is here. Continued to clear the perennial weeds from around the new hedge and wild garden.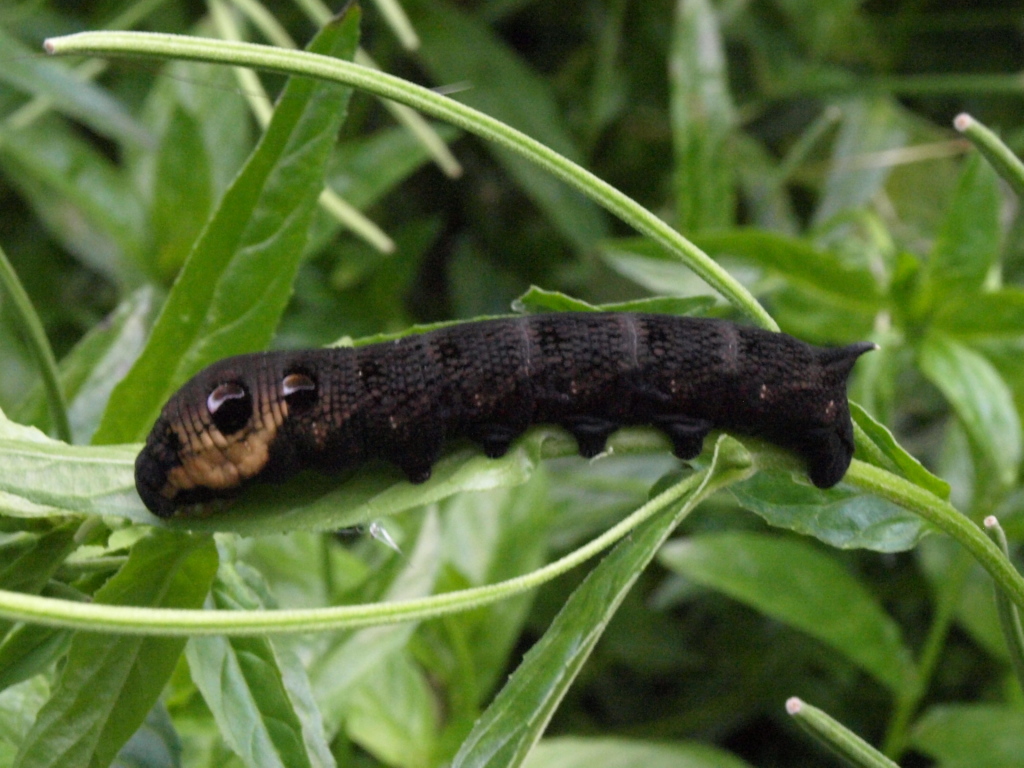 Found this critter on some lesser willow herb while clearing away the weeds. It is the larva of an elephant hawk moth. Looks quite formidable with its large false eye but as you can see in the next picture the real front end is much less menacing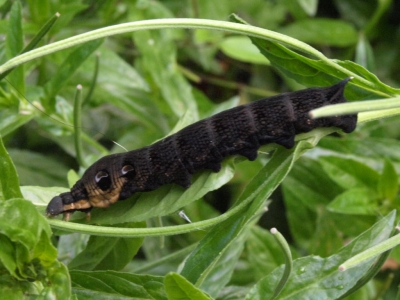 It is just a ploy to scare off a predator.
Wednesday 19th
4 to 16 to 9°C. 8.48kWh 1.8kW max. Cold sunny start. Scattered clouds and a few spots of rain later.
Signs of Autumn
1. On my bike ride I noticed a flock of swallows lined up along a telephone wire. They usually do this just before they set off on their migration South
2. I needed to wear gloves when riding my bike for the first time since early April
3. Some of the leaves in the hedgerows, such as the blackthorn, elder and beech, are changing colour.
4. There was almost a frost this morning.
Thursday 20th
9 to 19 to 12°C. 5.04kWh 1.9kW max. Overcast with heavy black clouds and a few sunny intervals but only some short spells of light rain.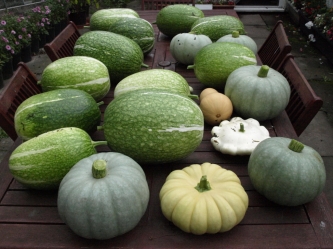 Decided we would pick some of the larger squashes so the rest can be encouraged to swell if we get any more warm weather. There is a lot of botrytis on the tomatoes so Pat decided to pick most of the rest of the fruits. Together with lots of peppers and aubergines which are still growing well she can make lots of ratatouillee for the freezer
Friday 21st
11 to 13 to 7°C. 1.91kWh 0.3kW max. A really dark damp dreary day. Light rain on and off all day.
Pat tried cooking with one of the big chinese pumpkins (the green stripy ones) which had been damaged when we picked it - they are very heavy and very slippery. Made a kind of lasagna but with slices of pumpkin instead of pasta. It was delicious. This used about a third of the fruit.
Saturday 22nd
1.5° to 14 to 6°C. 9.62kWh 1.9kW max. Clear cold start and stayed clear most of the day with a cold wind but feeling warm in sheltered sunny spots.
Surprisingly there doesn't appear to be any frost damage to either the summer bedding plants or the more sensitive vegetables like the runner and climbing beans. Maybe that low temperature was only for a short while just before dawn.
Another third of that pumpkin with an onion and a hot chilli pepper made some delicious pumpkin soup.
Sunday 23rd
5 to 12 to 8°C. 2.2kWh 400W max. Dull slightly damp start becoming much worse after lunch with heavy rain still falling late into the evening.
Monday 24th
8 to 12 to 9°C. 817Wh 250W max. Heavy rain all night and continued till mid afternoon.
Nearly 24 hours of continous steady heavy rain. Two straight sided buckets left out in the garden had 700mm of water in them; that is nearly 3 inches. According to the news many places in England, particularly in the west, are flooded but not us because we are the highest point round here.
The sprouting early potatoes, Arran Pilot and Lady Krystl, I planted a few weeks ago in small pots have grown well so I moved them into 3L pots. Provided there is no really cold weather and some sunny days in October and November we might have some new potatoes by Christmas or the New Year. A bit of a gamble, I know, but sometimes it works.
Tuesday 25th
9 to 11 to 9°C. 952Wh 250W max. Mostly dry overnight with heavy clouds by morning. Started to rain again around 10am and continued steadily all day and into the night.
The forecast is better for tomorrow. The new shredder is coming on Thursday so let us hope it will be drier by then.
Wednesday 26th
9 to 13 to 10°C. 3.08kWh 1.2kW max. The rain slowed down overnight and was onlt drizzle by the morning, finally stopping around 10am. The sun even came out for a brief period but it was overcast for the rest of the day with only a light breeze. Total rain over the last 24 hours was around 350mm, making over 1000mm in the last few days. There are many floods reported on the news, particularly in northeast England.
Back to sawing up more logs, this the thicker ones using the chainsaw. I now have a big pile waiting to be split, wet on the outside but dry in the middle. We have already lit the fire twice this week but the weather seems to be getting better again with the barometer rising from 981 to 1002 over the last 24 hours.
Thursday 27th
6 to 14 to 8°C. 5.96Wh 1.7kW max. A much better day with sunny intervals and a few very short light showers.
The new shredder arrived just after lunch. More than twice as powerful as the old one, 10HP rather than 4.5. It was supposed to be only 9HP but they have just replaced them with this more powerful engine but no extra cost so who's complaining? It has two chipper blades and two more rows of shredder hammers. We tried it out and definitely is much more powerful and will save a lot of time. It also produces finer shreddings and smaller chips so this should compost quicker.
Also received the winter bedding plugs, 66 each of Pansy Cancan, Primula Charisma, Viola Avalanche and an early variety of Sweet William. So I shall be busy planting these into 9 cell trays to grow them on before putting them into pots for our winter flowering display.
Friday 28th
6 to 15 to 9°C. 3.80kWh 1.3kW max. Mostly overcast with a few sunny intervals and short light showers.
Not feeling too good with the usual aching and shortness of breath but managed to transplant most of the plug plants into trays. Pat made a start on the mountain of hedge and shrub debris needing chipping and shredding.
Saturday 29th
6 to 13 to 7°C. 7.2kWh 1.9kW max. Sunny start but with thin cloud in the afternoon. Cleared again after dark.
Still not very well but managed to finish transplanting the plug plants. Then back to training the taller chrysanthemums which are starting to flower.
Pat continued shredding.
Sunday 30th
7 to 14 to 12°C. 1.07kWh 250W max. A dull dreary day with spells of fine drizzle. Came a little brighter for a short time in the afternoon, which is when the solar panels managed the 250W output.
Not feeling any better but probably wouldn't have done much outside in this weather anyway.