December 2014 Back to November
Monday 1st
4 to 8 to 6°C. 558Wh 80W max. Another grey day but not as dull and damp as some recent ones.
Started digging over the soil in the polytunnel now it is cleared. As usual 6 months of hot air and watering just the surface has made it very hard so it takes a lot work to break it up. But at least I could keep warm while I was doing it; the lack of sunshineand wind making it no warmer inside than out.
Tuesday 2nd
6 to 7 to 0°C. 1.21kWh 400W max. A brighter day but with a cold northerly wind, particularly after dark.
Finished digging over and raking flat the far end of the polytunnel. Started to move the chrysanthemum pots to this far end and down the sides so I can start building the permanent structure down the middle to support the tomatoes and squashes next summer.
Wednesday 3rd
-2 to 5 to -1°C. 3.69kWh 1.1kW max. Clear and frosty overnight and unbroken sunshine all day but with a cold northerly breeze.
A good day for sawing up some more firewood.
Thursday 4th
0 to 4 to 3°C. 256Wh 60W max. Another grey damp day but slightly warmer probably because it was overcast.
Our new car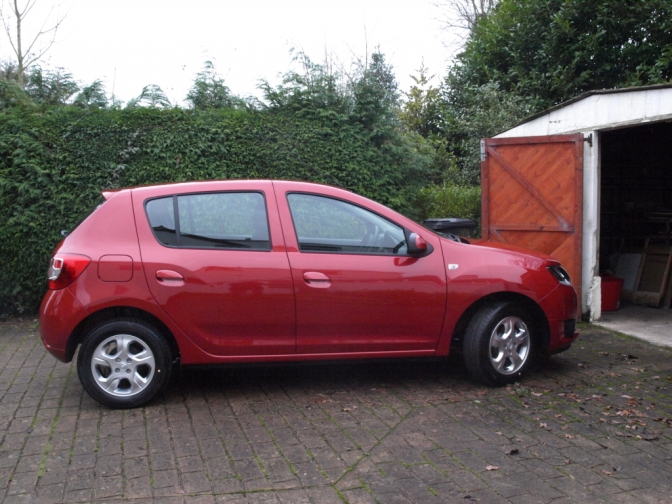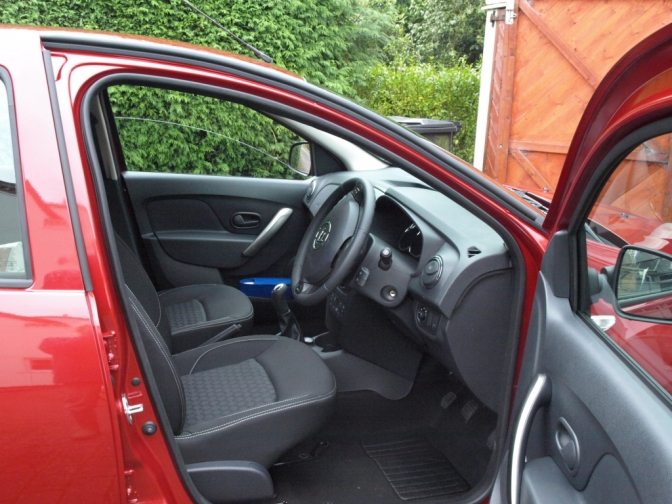 A Dacia Sandero Laureate which Pat brought home today.
Actually I was more excited about something else she bought. A 30" bowsaw blade. I have been wanting one of these for a long time; I was beginning to wonder if they still existed. It will make sawing up the firewood so much easier than with a 21" blade.
Friday 5th
-1 to 7 to 0°C. Cold damp start clearing to some sunshine around lunchtime but then showers again in the afternoon before clearing again after dark.
I was busy with my software for most of the day and the weather wasn't suitable for gardening with a cold blustery northerly wind.
Saturday 6th
-1 to 7 to 7°C. 2.34kWh 900W max. Sunny intervals with some light showers and a cold northerly breeze.
Not feeling well today with the usual asthma and arthralgia.
Sunday 7th
7 to 8 to 1°C. 2.08kWh 900W max. Sunny intervals still with the northerly breeze making it feel colder than the thermometer suggests.
Still not well but did manage to finish tidying up the chrysanthemums.
Monday 8th
1 to 7 to 1°C. 2.67kWh 900W max. Clear sunny morning but clouded over by lunchtime with black clouds and blustery rain showers during the afternoon.
By the time I had finished my work this morning the weather wasn't conducive for working outside so I carried on working on my software instead, preparing the first batch of disks with the new program on it for distribution to 21 different hospitals. Maybe I will give myself the morning off in compensation when the weather is better.
Tuesday 9th
-1 to 6 to 11°C. 128Wh 40W max. A very dull day with frequent heavy showers and turning very windy in the evening,.
Spent some of the afternoon re-doing my potato, onion and seed order for next year. Re-doing because the first time something went wrong when I tried to 'view my basket' to check everything was there. That was over a week ago and they have finally mamaged to clear it. They think it was because the order was too big so this time I split it into two parts with the potatoes, onion sets and grafted cucumbers in one and the vegetable seeds in the other.
The same thing happened last year; surely others have orders as big as mine?
Wednesday 10th
1 to 8 to 4°C. 2.94kWh 900W max. A sunny but very windy day with a few showers passing over very quickly,
While on my bicycle this lunchtime something happened I have never experienced before. The road bending round the local church is quite steep and narrow and the wind blowing down it was so strong it stopped me completely. With great difficulty I managed to keep my balance as I got off so I could push the bike to a flatter less windy spot. I take a great pride in never having to get off and push my bike, even up the steepest hills, but there was no way I could pedal hard enough to overcome the force of the gale.
The polytunnel is now clear enough to move all the timbers inside which I am going to use to build a permanent frame to support the tomatoes and squashes. It has been stacked outside in bundles and has got very wet so I spread it out loose and flat so it can dry out.
Thursday 11th
3 to 6 to 5°C. 791Wh 250W max. Another mainly overcast day with a few sunny intervals in the morning but still windy, especially during the frequent but short showers. Later in the day some fairly heavy rain started falling and was still doing so late into the evening.
Managed to saw up some more firewood before the rain arrived.
Friday 12th
1 to 6 to 2°C. 1.84kWh 900W max. Rained most of the night (12.6mmm) before clearing and becoming colder just after dawn. Then mainly sunny before clouding over again after dusk with some more light rain. It could be cold enough for some snow by the morning.
There were a lot of large puddles on the road when I went for my bike ride, some of them all across the road. Some of the fields are very wet already and the ditches full to overflowing, earlier than last year.
Saturday 13th
0 to 7 to 1°C. 3.32kWh 900W mx. A really sunny day with only a light breeze.
A very good day for a walk round Whixall Moss. It was rather muddy but a lot of the mud was still frozen from the overnight frost. We only saw one person, a cyclist on the tow path on the way back.. A really clear day and you could see the Welsh hills in the distance. Sorry, forgot to take my camera; I will try and remember next time.
Sunday 14th
3 to 8 to 6°C. 848kWh 400W max. Sunny start but soon clouded over with some light rain in the afternoon and early evening.
Spent most of the afternoon between the showers gathering up leaves from round the polytunnel. 14 barrowloads and I haven't yet finished. These are nearly all from the big oak tree nearby; it is only when you see how many leaves it drops that you realise how big it is. There is another even bigger oak at the other end of the garden but this is in the wold part so those leaves just get left to cover and mulch the ground till the bulbs come through in the spring
Monday 15th
2 to 7 to 3°C. 1.34kWh 900W max. Cloudy with some sunny intervals in the middle of the day but some light rain showers in between.
Started cutting up the timber to build the permanent tomatoe and squash support frame in the polytunnel. I shall be doing this for quite a time from now on this winter whenever it is damp or windy outside and warm enough inside.
Tuesday 16th
4 to 9 to 6°C. 1.71kWh 600W max. A clear but not particularly cold night followed by a misty morning and sunny spells into the afternoon. Started raining just after dark and was still falling quite heavily with 6mm by 11pm.
Wednesday 17th
8 to 14 to 10°C. 1.62kWh 700W max. Some more rain overnight and mainly overcast with some sunshine in the late morning and very mild with little wind.
A small crisis with my software so I didn't actually get outside to enjoy the mild weather and do some gardening.
Thursday 18th
11 to 12 to 12°C. 528Wh 100W max. Another very mild day but overcast with a strong southerly wind a some drizzle.
Just after lunch Pat shouted 'There's a fox in the chickens'. so we both rushed out to save them. It was very thin and mangy and probably incapable of catching rabbits and rats so decided our hens were easier prey. Fortunately it had only killed one before we got out there so we now only have two left. It desperately tried to get back out eventually scaling the fence where it was only 1200mm (4ft) high. It must have been desperately hungry to risk getting in when there was no obvious quick way back out.
The remaining two hens were terrified and went into the hen house even earlier than usual.
Spent the rest of the afternoon doing what I should have done ages ago, increasing the height of the fence to at least 1700mm (5ft 6in) and adding more posts so it can't flatten part of the mesh down. Hopefully that will work.
Friday 19th
6 to 7 to 6°C 951Wh 500W max. Came much colder overnight, the wind moving to the north. Mainly overcast but with a few brighter intervals and only a few short spells of light rain.
Back to frame building in the polytunnel.
Saturday 20th
6 to 8 to 6°C. 687Wh 200W max. Another overcast day though a little less windy.
Sunday 21st
7 to 10 to 12°C. 781Wh 400W max. Another overcast day with one short brighter period around lunchtime. Very windy.
The hens are finally starting to venture down the garden again. For the past two days they have stayed very close to their house and the two eggs they have laid have been almost without shells. They must have very frightened by the fox.
Monday 22nd
12 to 13 to 11°C. 769Wh 300W max. Another overcast day with a strong southerly wind. Out of the wind it felt very mild for the time of year. A colder but sunnier spell is forecast for later in the week.
The wind, though strong, wasn't as gusty as Sunday so my bicycle ride was much more pleasant.
Tuesday 23rd
10 to 12 to 10°C. 231Wh 50W max. Very dull with a strong blustery wind and some light rain in the evening.
Wednesday 24th
11 to 5 to 7 to 4°C. 2.04kWh 900W max. Cleared and cooled overnight to a colder sunny morning though without the wind chill it was quite a pleasant day.
They said on the radio that the international space station would be moving over the sky around 17:20 so Pat looked out for it and, sure enough around 17:23 we could see it moving like a bright across the clear sky from West to East. It didn't have flasshing lights like the airliners which pass regularly over us, was much brighter, moved a little faster and there was no following sound. This is probably happening most of the time so is probably not unusual. It was just because it was mentioned on the radio that we looked for and spotted it.
http://www.independent.co.uk/news/uk/home-news/heres-how-to-spot-the-international-space-station-in-the-sky-over-britain-on-christmas-eve-9944470.html
Thursday 25th
3 to 6 to 2°C. 2.64kWh 900W max. A clear night with a slight grass frost in some of the fields east of a hedge then sunny for most of the day with very little wind. There was a short shower in the early evening before it cleared again to a cold still starry night. So we almost had a White Christmas; tomorrow the forecast is for more wintery weather.
We had our usual Christmas dinner, just the two of us at lunchtime, breaking our vegetarian diet with a field-reared capon. The rest of the dinner was from the garden, sprouts, potatoes, onions, parsley, thyme and rosemary. Then we went for a walk round the back lanes in the afternoon.
Friday 26th
0 to 3 to 0°C. 294Wh 60W max. Clear overnight but came cloudy soon after dawn and by lunchtime there was wome steady rain followed by sleet and finally snow just before dark. There was about 2cm on surfaces above the ground but here it was more slush than snow. This could freeze during the night so it could be quite treachorous by the morning.
Not really a day for being outside. It was too cold to work even in the polytunnel.
Saturday 27th
Our phone line went down this morning so I am writing this 10 days later after it was fixed. I recorded the weather and solar output but can't remember the weather clearly other than it seemed to be either cold and clear or milder but cloudy and damp and this continued into the New Year. On the cold days there was a lot of hoar frost making the roads too slippery for safe cycling but we did go for a walk on the Sunday.
0 to 2 to 0°C 108Wh 50W max.
28th -1 to 2 to -3°C 2.94kWh 900W max
29th -4 to 2 to -3°C 3.47kWh 900W max
30th -5 to 2 to -1°C 2.30kWh 850W max
31st -1 to 5 to 7°C 1.41kWh 700W max
It started raining on late on New Year's Eve so I didn't go outside at midnight to watch the fireworks all round the horizon as I usually do.