April 2015 Back to March
Wednesday 1st
4 to 8 to 6°C. 7.43kWh 2.1kW max. Another windy day with sunny intervals and heavy showers.
Continued potting up the summer bulbs.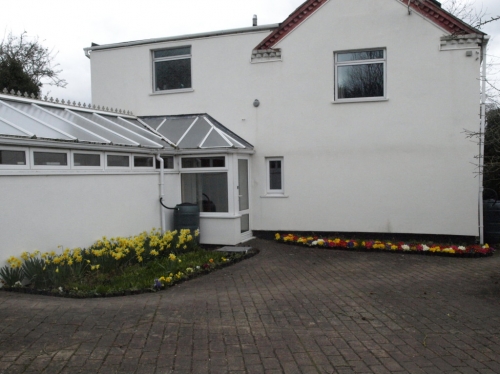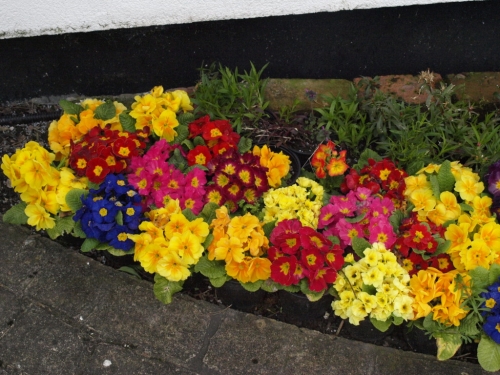 Thursday 2nd
6 to 10 to 6°C. 5.31kWh 1.2kW max. Mainly overcast with some brighter but not sunny intervals around midday. The wind has died down. Some light rain in the evening.
Happy Birthday to Pat; though she didn't really do anything different to any other day. In the afternoon she did some more shredding. I spent most of my afternoon fixing the roof on the hen house (even though the sun wasn't actually shining!)
Friday 3rd
7 to 12 to 7°C. 2.03kWh 250W max. A very dull drizzly day. Started off still but became windy again in the afternoon.
Despite the drizzle started tidying up the trays of wild flowers which are starting to grow again, just like the ones I laid out in the wild garden last year with new rosettes on the perenials and lots of tiny seedlings for the annuals.. These trays are to cover more of it and maybe some of the road verge as well.
Saturday 4th
7 to 12 to 5°C. 4.66kWh 800W max. A little brighter than yesterday but didn't really clear till late in the afternoon.
Sarah Euan and Cowan have come to stay for the Easter weekend. Before they arrrived at 5pm I managed to finish sorting out the wild flower trays and then sprayed the ones I just filled with soil last autumn with glyphosate before I sow these too with wild flower seed. Also sprayed the nettes and docks in various parts of the garden including the wild area, It might be called 'wild' but it actually needs managing otherwise the coarse perennial weeds like nettles, docks, thistles, dandelions and cow parsley would take over before the smaller wild flowers can get established. This is the best time to spray them; they have already produced new growth but they are small enough to spot-treat them without much risk of harming the plants we want to keep.
Sunday 5th
7 to 17 to 5°C 4.51kWh 1.8kW max. Cloudy and dull in the morning but cleared to a warm sunny afternoon.
Went for a walk over Whixall Moss in the afternoon. It was really sunny and quite warm;a change from the last few days. A really good Spring Day with butterflies and bumblebees, chaffinches and blackbirds singing in the places where there were a few trees and curlews and lapwings calling across the open bogland. Then we saw two pairs of mating toads; a sure sign that Spring is here at last.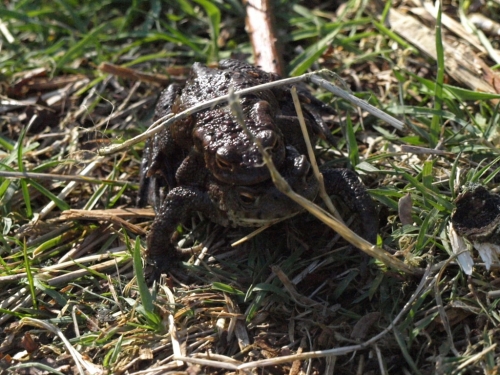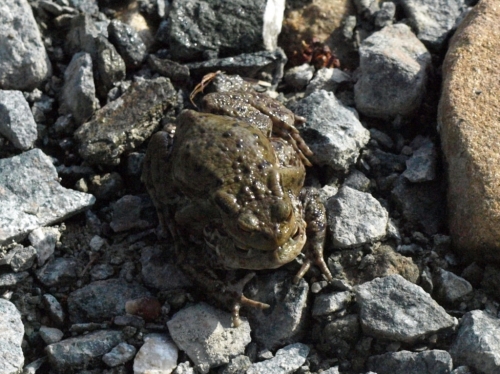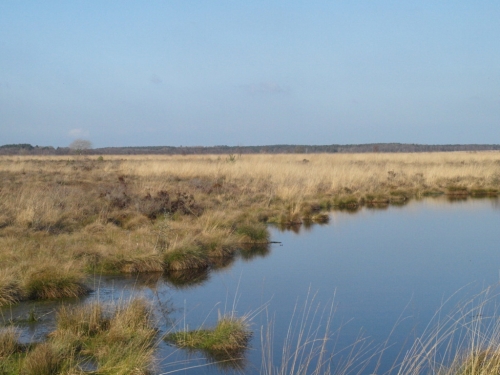 Monday 6th
3 to 15 to 4°C. 8.4kWh 2.00max. After a misty start another warm Spring day with light wind, very little cloud and plenty of sunshine.
Attempted to rebuild the wire mesh fences in the vegetable garden which have been flattened by the hens flying onto them to get to the other side rather than going through the tunnels under them. Looks like they need their wings clipping to prevent this. Then sowed parsnips in the bed we use alternately for celery and parsnips near the road and covered it with fleece till they germinate.
Pat,Sarah and the boys went out for the day to Hawkstone. I couldn't go; there were much too many people with all their noxious chemicals. However, even staying at home I must have come in contact with something to make me ill, probably someone in one of the open topped cars going past, or maybe the groups of cyclists. By the time they returned I was feeling quite ill and by early evening had a massive asthma attack; the worst for several years. I completely stopped breathing and went unconscious. If Pat and Sarah hadn't been around I doubt I would have been here to write this (I am actually doing this on Tuesday). Pat got the nebuliser going while Sarah tried to keep me awake (so they say; I don't remember anything) and I woke to find them both very close and concerned about my well-being. I went to bed early and needed more nebulised Salbutamol at 4 in the morning.
Tuesday 7th
3 to 17 to 8°C. 9.51kWh 2.1kW max. Very misty start followed by the sunniest day so far this year.
Pat and the boys went back home just before lunch. I was sorry they had to see me ill though I don't think it was anything caused by them. Later I managed to plant on the rest of the peppers and tomatoes into cell trays and sow the courgettes and squashes.
I still don't feel very well, having a low peak flow and inhaled a lot of salbutamol during the day and taken alternate ibuprofen and paracetamol for the aching. I have also taken some chlorphenamine to try and give me a better night's sleep; I don't like taking it as there is a question as to its possible increased risk of dementia in older people. But being starved of oxygen probably doesn't do my brain any good either.
The three young hens are still very flighty and keep jumping over some of the mesh fences with the assistance of their wings. So we decided to clip their flight feathers on their left wing.
Wednesday 8th
4 to 17 to 10°C. 10.47kWh 2,1 kW max. Another warm sunny day and the first day this year to generate more than 10kWh of electricity.
Raked over the vegetable patch nearest the road so I could start planting out the onion sets which are now around 10cm high with some good roots in their cell trays. While I was doing this Bluebelle manage to jump onto the top of the mesh fence round this bed; I had already removed the tunnel under it to stop them getting in. So after a lot of chasing I managed to catch her and we cut off the flight feathers from her other wing. I don't recall us evert having to completely ground a chicken before. They will grow back but only next time she moults and by then maybe she will be too heavy to try this again; the older pair have never jumped over fences even when they were young.
Planted the Centurion and Hercules onions in this bed. Hopefully nothing will disturb them. There are still magpies and pheasants which a mesh fence won't keep out.
We are now getting three eggs almost every day though they are rather variable in size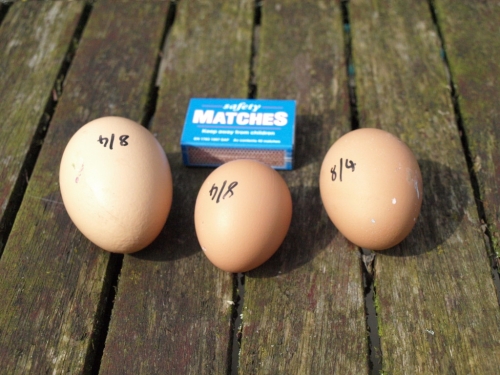 Thursday 9th
4 to 19 to 10°C. 9.78kWh 2.1kW max. Another sunny day though more hazy than yesterday.
Finished planting out the onions. Bluebelle still managed to jump over the mesh fence into the onion bed so now all the large feathers on both her wings have been trimmed. Pat did some more shredding. Later in the afternoon we shut the hens in so I could spray the nettles under the fruit trees and in the mesh fences round the vegetable garden with glyphosate. Nettles are pretty successful as weeds being difficult to dig up without leaving some roots behind and you need gloves to pull them out to avoid being stung. Even the hens don't eat them but they are a primary food plant for a lot of butterflies and moths so if they just grow under the perimeter hedges they can be tolerated there for that reason. The one chink in their armour is they start growing before most other herbaceous plants. This makes them successful in smothering competitors but it makes them vulnerable to weed killer before the other plants have emerged.
Pat made the first rhubarb crumble of the year; something I always look forward to.
Friday 10th
3 to 18 to 11°C. 9.24kWh 1.9kW max. Hazy sunshine though not as hazy as in the southeast of the country where they issued a severe pollution warning for industrial smog coming in from the continent mixed with traffic fumes. I am glad I'm in the west; I don't think it would do my asthma any good.
Spent quite a lot of time watering in the polytunnel; it is usually not as hot in there at this time of year. Then planted out the next batch of peas and beans. Bluebelle didn't jump over the mesh to investigate. Guess what Pat was doing?
Saturday 11th
5 to 12 to 5°C. 9.59kWh 1.9kW max. Damp start but soon brightened up to a mainly sunny day though feeling colder in the gusty north westerly wind.
More germinated peas, Onward, and beans, Imperial Green Longpod to plant into cell trays and also the last of the plug plants, Gazanias. Then back to mixing potato potting compost to plant the Casablanca early potatoes in 17.5L bags. Pat has just about finished the present batch of shredding.
Sunday 12th
3 to 14 to 1°C. 3.9kWh 900W max. Mainly overcast with a very strong gusty wind till late afternoon when it rained before clearing later in the evening.
In the morning hoed over and then raked the previously limed brassica beds in the fruit cage and dug over some of the others apart from those with the broccoli which is producing lots of tasty purple sprouts for the next couple of weeks or so. It won't be long before the seedling cabbages, sprouts and broccoli are big enough to plant out.
In the afternoon continued to move the early potatoes into bags. I finished the Casablanca and started with the Kestrel.
Pat started weeding the strawberry beds as a change from shredding but was driven inside by the rain after finishing the first one.
Monday 13th
-1 to 13 to 9°C. 5.42kWh 1.9kW max. Frost start followed by a clear morning but clouded over by lunchtime with only a few short glimpses of the sun between dark clouds in the afternoon but there was only a few spots of rain. Feeling warmer as the day progressed.
Went to the doctor's this morning. He is quite concerned about my recent asthma attacks and has prescribed me a couple of adrenaline prefilled syringes in case it happens again. He is also wondering whether the time has come to start taking a regular small dose of steroid prednisolone to try and reduce my asthma attacks which are running at 4 or 5 a week recently. I need to think about this. Taking steroids could shorten my life but if that life is improved it might be worth it. Not doing anything also puts me at risk from another massive asthma incident when no-one is around to reverse it,
Finished planting the Kestrel potatoes into bags. Pat nearly finished weeding the strawberries. Tomorrow we will put some fleece over them to encourage them to start flowering. The ones in the polytunnel are now flowering. There are bumble bees around but if the flowers don't look to be being fertilised I might need to do this by hand.
Tuesday 14th
7 to 18 to 8°C. 11.12kWh 2.1kW max. Misty start but soon cleared a very sunny day with very little cloud and wind. The best electricity generated since last September with a lot of surplus heat diverted to the hot water system which was useful since Pat hasn't lit the stovefor the last few days.
Very busy with my software today so didn't get much done in the afternoon but did manage to finish moving the Kestrel potatoes to bags and start adding more soil to the Swift bags to earth them up. Also sowed Naughty Marieta marigolds, Aphrodite parsley, Floridor courgette and Coleus. The winter squash Turks Turban have germinated; still waiting for the rest.
Pat decided to mow the lawn for the first time this year. It was rather long in places but she managed bt cuttiny it twice at different settings. It is more weeds and moss than grass. Maybe I ought to do something about this though I confess, contrary to the usual opinion of English gardeners, I don't really have much interest in lawns.
Wednesday 15th
5 to 15 to 8°C. 9.66kWh 1.9kW max. Not as sunny, or feeling as warm, as yesterday but the hazy sunshine produced nearly as much electricity.
Planted out the rest of the Excellenz peas and put the maincrop Onward peas to soak and germinate. Finished filling up the Swift potato bags and planted some of the begonias in pots as they start to show signs of life.
Thursday 16th
6 to 15 to 9°C. 7.86kWh 2.0kW max. Mainly sunny with thin cloud.
Started to move the brassicas into 3.5inch pots to harden off in the cold frames, starting with the early cabbage Golden Acre and the early broccoli. Last year half of them had their tops nibbled off by mice and most of the rest were eaten by slugs. So this year I am putting both slug pellets and poison rodent bait in the frames. I don't like doing this but last year I had to resow some of the brassicas there were so few left to plant out.
Got 4 eggs for the first time today. So this confirms the younger hens are all laying?
Friday 17th
7 to 12 to 7°C. 5.48kWh 800W max. Mainly cloudy.
Continued potting the brassica seedlings with early sprout Bronte, late summer cabbage Minicole, mid season sprout Doric and calabrese Aquiles. Pat finished the shredding, for the moment until we cut the hedges.
One of the older hens died overnight. Not unexpected; that is why Pat got the three new ones. Still got three eggs from the remaining ones.
Saturday 18th
2 to 15 to 6°C. 13.10kWh 2.1kW max. A very sunny day, the best this year, but with a cold easterly wind. Even so it was too warm in the polytunnel to do any work until quite late in the afternoon.
Finally got round to cutting back the ornamental grasses growing down the side of the drive. As usual we were too late to avoid cutting some of the new growth. Pat then started to weed the flower beds in front and to side of them. Once it became cooler I planted out some more of the brassicas into pots, this time the mid-season purple sprouting broccoli and the Darkibor kale.
Most of the squashes have now germinated and will soon need potting on also.
I am spending more and more time watering in the polytunnel as there are so many plants in there waiting to be moved out once the risk of frost is passed. Trouble is this year there are some parts of the garden outside that will also need watering if it doesn't rain soon. It is good job I bought those two 1100L tanks a couple of years ago as we would soon be running out of rain water.
Sunday 19th
0 to 9 to 6°C. 7.27kWh 1.7kW max. Chilly start and remained mainly cloudy with a chilly NE wind until mid afternoon when the sun came out for a while before clouding over in the evening. At lease this means we won't have a frost tonight.
Sprayed the large coarse weeds, dandelions, thistles, nettles, docks and cow parsley, on the verges and around parts of the garden with glyphosate. I have some more trays of wild flowers to place at the back of the road verges once the big weeds are clear. These trays needed watering as the plants in them were wilting from lack of rain.
In the afternoon I finished potting on the brassicas, finishing with the late sprouts. Then potted on the Turks Turban squash plants from their cell trays into 1L pots.
Monday 20th
0 to 15 to 8°C. 12.98kWh 2.1kW max. Clear start with a brief period of frost, hopefully not enough to damage the plum blossom, then wall-to-wall hazy sunshine with just a few clouds but still a cold NE wind until late in the day.
After a couple of incidents while out on my bike ride, a car which was indicating turning left at a junction I was coming out of going on straight instead, and an articulated lorry delivering a tractor completely blocking the road just past a blind bend, I decide maybe it was time to fix my brakes. So part of the afternoon was occupied in fitting new brake blocks to the back wheel and tightening the blocks on the front wheel. So long as I haven't made them so good I fly over the handlebars next time!!
After this I dug over the vegetable bed between the hen house and the fruit cage, much to the delight of the chickens who gobbled up worms till they couldn't fit any more in their crops. They won't be as pleased later in the week when I fence the area off so I can plant out the maincrop potatoes.
Tuesday 21st
2 to 18 to 8°C. 12.43kWh 1.8kW max. Another day of continuous though hazy sunshine and with very little wind making it feel much warmer.
Planted out the second batch of Early Onward peas and the Turbo broad beans. Later in the afternoon after the polytunnel had cooled down transplanted the Marmande tomatoes into 1L pots.
Wednesday 22nd
3 to 18 to 8°C. 13.11kWh 2.0kW max. More hazy sunshine with a south easterly breeze. An unusual direction for the wind. It was strange to be blown out on my bike ride and push against the wind on my way back. Tomorrow is forecast to be the last sunny settled day for the time being. After this we wil get some cooler weather with some well needed rain.
Planted out the rest of the onions which I had started off in cell trays. These were the heat treated sets, Red Baron and Hitech. Heat treated onion sets arrive later but once they have started grow quicker and usually longer than the normally treated sets. They also keep longer; we are still eating those from last year. Later potted on the rest oif the tomatoes, 15 Bejbino, 18 Malinowy Henryka but only 6 Shirley. I am beginning to wonder whether to bother with the Shirley. It is a good all round greenhouse tomato but every year the packet has less seeds. This year there were only 10 and only 7 of those germinated and one of those died after planting out and another is a bit small.
Thursday 23rd
2 to 20 to 10°C. 12.33kWh 2.0kW max. Another very sunny day, feeling even warmer because there was very little wind. The temperature in the polytunnel was above 35°C for most of the afternoon.
The chrysanthemums in pots in the polytunnel were definitelt suffering with the heat so started moving them outside, removing the crown buds and weeds as I did so. Rain and cooler weather is forecast for the weekend which will suit them a lot better and help to replenish our rain water stocks which are less than half full.
Friday 24th
5 to 16 to 12°C. 5.36kWh 1.2kW max. Mainly cloudy with a few brighter intervals but also a few spots of rain.
Planted the latest germinated peas, Onward, and broad beans, Green Longpod into trays. Moved the strawberry pots into the fruit cage; they are in full flower and no bees seem to be finding their way into the polytunnel. Also because of the very settled sunny weather they aren't much further advanced than the earliest ones planted in the fruit cage.
Sowed French Marigold Bonita, African Marigold Crackerjack and Nicotinia in trays in the propagators. That is it for this year.
Saturday 25th
9 to 16 to 4°C. 7.95kWh 2.1kW max. Windy with sunny intervals and a few short showers; at last some April weather.
The Vales Sovereign maincrop potatoes are too big for their pots so planted them outside in the bed between the hen house and the fruit cage. Not the best weather for doing this but they really were bursting out of the pots. Covered them with fleece as some cold nights are forecast.
Started potting on the summer bedding from the 12 cell trays into 3.5in pots, starting with the bacopa. I don't think any of the salvia have survived the cold weather just after I planted them in early March. I think I might delay ordering them next year till late March.
Sunday 26th
3 to 10 to 3°C. 13.93kWh 2.1kW max. Sunny all day with very little cloud but with a cold northerly breeze. The temparature in the polytunnel rose to 33°C in the afternoon.
Moved the rest of thechrysanthemums out or the polytunnel. Then back to potting on the summer bedding.
Over the last few days there have been three rabbits in the garden, one adult and two youngsters, which were obviously very ill with sores on their faces and runny half-closed eyes. They didn't run away when you approached them and we put all three out of their misery. This looks very much like myxomatosis, which I remember in the 1950s wiping out most of the wild rabbits in the UK, Europe and Australia where it was deliberately introduced. Is it back? I have mixed feelings about this. They do a lot of damage in the garden, so it would be good to be rid of most of them but this is a horrible disease causing great suffering.
Monday 27th
-2 to 10 to 3°C. 12.73kWh 2.0kW max. Cold clear frosty start with a sunny morning, clouding over with a few short showers in the afternoon.
The last of the old hens died last night. The new ones are doing really well, laying 20 eggs in the last week, nearly one each every day, so we have more than enough eggs at the moment.
Continued to pot on the summer bedding, today the Stock PopStar.
Tuesday 28th
0 to 11 to 6°C. 11.43kWh 2.0kW max. Another sunny day but still with that cold northerly breeze.
Wednesday 29th
5 to 11 to 4°C. 9.47kWh 2.2kW max. Rained overnight; enough to water the garden but not replenish the water stores. Mainly sunny with variable cloud and a cold westerly breeze.
Continued to pot on the summer bedding, Verbena and Antirrhinum, and prick out the Marigold Naughty Marietta and Coleus seedlings into cell trays.
I would like to have planted out the rest of the maincrop potatoes but frosty nights are forecast for the next few days.
Thursday 30th
3 to 12 to 6°C. 8.57kWh 1.6kW max. Broken cloud with a few short showers. The wind has dropped so feeling a little warmer.